Cinnabar Foxglove In Hi Gear, 13 points/three specialty majors ("Chase")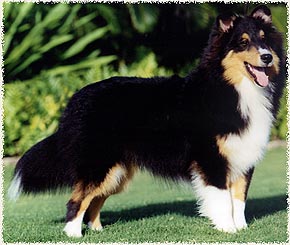 Chase, born July 2000, and pictured at six months of age, lives in Hawaii with Nola Chock (Cinnabar). Chase won a five-point specialty major at the age of eight months -- at his very first show! He picked up his second specialty major (3 points) in November 2001, and his THIRD specialty major (five points) in March 2002. Thank you to breeder-judges Marion Durholz, Linda Churchill, and Bob Kelly for these very nice wins.
Chase is now proven with his first litter born December 26, 2001. Not one to do things half-way, Chase's first litter consisted of 12 -- yes, TWELVE -- puppies! (In all seriousness, it's the bitch who determines the number of puppies in a litter. And this was the first litter for Mom as well.)
Chase was co-bred by Nola Chock (Cinnabar) and Foxglove. He is co-owned by Cinnabar and Foxglove.
Tara Hill It Hasta Be Shasta (litter brother to CH Tara Hill All Is Vanity)

CH Tara Hill Aylmere Wild Card

Dan Dee Orange Fragrance

CH Benayr Sentimental Journey

Aylmere Amanda Leigh

Aylmere Karma ("Sportin' Chance")

Am/Can./Jap. CH Alfenloch Whirlwind, ROM

Sea Oak Diamonds Are Forever (dam of 3 CHs)

Foxglove-DeVine Trendsetter, NA, HSA-s

Edgelea Nor'Easter O'Rosmoor ("Rosmoor Robert")

DeVine Sing A Joyfull Song, CD, NA, HS

Kelhar's Joy To The World, CDX
Cinnabar Foxglove In Hi Gear (Chase)
CH Macdega Maserati, ROM

CH Macdega Glenhart Grand Prix, ROM

Glenhart Ring Of Gold

CH Lakehill King O' The Road

CH Sunnybrook's Heritage Spirit, ROM

CH Lakehill Heritage Crystal

Lakehill Sassafras Lass

Am./Can. CH Alfenloch Ryan O'Neil, ROM ("Heritage Spirit")

Am/Can./Jap. CH Alfenloch Whirlwind, ROM

Am./Can. CH Alfenloch Tatum O'Neil ("Heritage Spirit")

CH Foxglove Ashburton Ingenue (dam of 3 CHs)

CH Cameo Farms Justinuff Spirit ("Heritage Spirit")

BISS CH Malpsh Penny Serenade, ROM (dam of 6 CHs)

CH Malpsh The Magic Is Back ("Heritage Spirit")