Suntera Foxglove Charmed Life, major pts. ("Charm")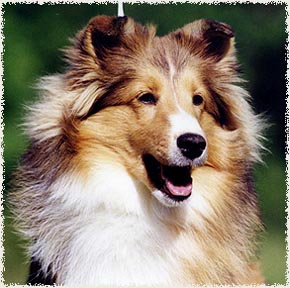 Charm, born November 1999, earned 5 points, one major, from the 6-9 puppy class. She was Runner-up to Best in Sweeps at the Colonial SSC specialty show in June 2000 and Best in Sweeps at the Interstate SSC specialty show in October of the same year.
Charm will be back in the ring in the summer 2002, after coating up from a litterhas by Macdega Raconteur (CH Macdega Sausalito, ROM x Macdega Rendezvous, ROM). Watch for her!
Charm was co-bred by Colleen Gentilcore (Suntera), Deb Jones (Ashburton), and Foxglove. She is co-owned by Suntera and Foxglove.
Tara Hill It Hasta Be Shasta (litter brother to CH Tara Hill All Is Vanity)

CH Tara Hill Aylmere Wild Card

Dan Dee Orange Fragrance

CH Benayr Sentimental Journey

Aylmere Amanda Leigh

Aylmere Karma ("Sportin' Chance")

Am/Can./Jap. CH Alfenloch Whirlwind, ROM

Sea Oak Diamonds Are Forever (dam of 3 CHs)

Foxglove-DeVine Trendsetter, NA, HSA-s

Edgelea Nor'Easter O'Rosmoor ("Rosmoor Robert")

DeVine Sing A Joyfull Song, CD, NA, HS

Kelhar's Joy To The World, CDX
Suntera Foxglove Charmed Life, major pts. (Charm)
Am./Can. CH Alfenloch Ryan O'Neil, ROM

Am/Can./Jap. CH Alfenloch Whirlwind, ROM

Am./Can. CH Alfenloch Tatum O'Neil

Can. CH Bonnyville Fairfax Nighthawk ("Eli")

Am./Can. CH Alfenloch Ryan O'Neil, ROM

Bonnyville Forever A Diamond

Bonnyville's Sweet N' Sassy

CH Foxglove Ashburton Photo Op

CH Fourwinds Light The Way, ROM

CH Trelane Bold Image

Trelane Woodwyn Imagine That

BISS CH Malpsh Penny Serenade, ROM (dam of 6 CHs)

CH Cameo Farms Justinuff Spirit

CH Malpsh The Magic Is Back

CH Westwood's Malpsh Cherry Flan (dam of 3 CHs)