Basic Information
PsychicMP3 is a straightforward, fast, and easy-to-use MP3 renaming utility that features the world's first algorithm that retrieves MP3 titles directly from a CDDB database.
Forget about spending time on finding the right filename for your MP3s ! It takes only one click to PsychicMP3 to rename them all automatically !
PsychicMP3 calculates a diskid from your MP3 directory, and then queries FreeDB to get the associated disk information and ID3Tag/Rename the files. If the disk is not found in FreeDB, the program will query a search engine to get the right disk information and then requery FreeDB with the right DiskID.
Features

+ One click Automatic MP3 renaming
+ Supports incomplete MP3 albums
+ Manual CDDB query if diskid is not found
+ Move MP3 files and associated dependencies (JPG, BMP, M3U...)
+ Creates playlists
+ Connect to one of the 16 FreeDB sites
+ Support all Windows platforms (WinXP, Win2000, WinNT, Win98 and 95)
+ Proxy settings configuration
+ Manual association list (MP3 files - CDDB files) to rename the right files
+ Freeware !

Screenshot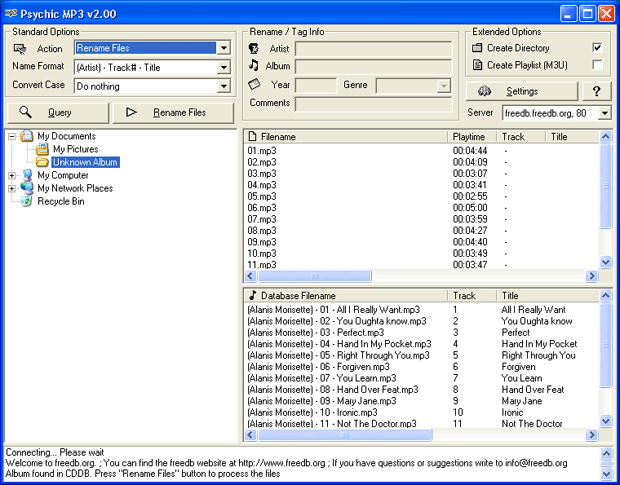 Click on the thumbnails to enlarge the pictures