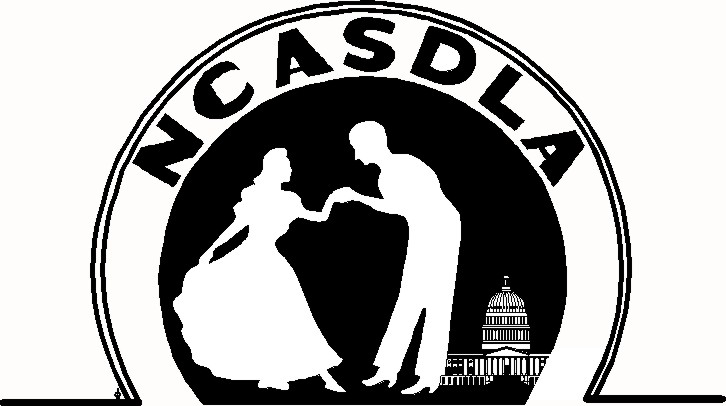 National Capital Area Square Dance Leaders Association
Dance Leadership since 1951
---
–HOME | EDUCATION | EVENTS | LINKS | PRESIDENT'S MESSAGE | MEMBERS | MEETINGS | MISSION | MORE ABOUT US | NEWS | BOOSTER CLUB |
---
---
In Memoriam center>
NCASDLA sadly notes the passing of long time caller Walt Peterman in the morning of March 6, 2013. Walt was a lifetime member of NCASDLA, and served for many years as its president.
---
From Ron Dean:

Sadly, I must report the death of one of the true mainstays in square dancing in WASCA and Virginia. Walt Peterman died at 9:15 this morning (Wednesday, March 6, 2013). Walt began calling in the Phillipines while stationed there with the Navy. He founded the Grand Squares of Prince William, VA in 1988, as well as the Hitch N Go Squares, a camping square dance club. He has called for many festivals, and was a regular at the VASARDA State Convention. Walt served as president of NCASDLA for a number of years and was the section representative to the Virginia State Caller's Association (VASCA). Walt and Jean Peterman received the VASCA Cardinal Award in 2008 and became life members of NCASDLA in 2011. Arrangements are still pending, of course. I solicit your prayers for Jean and the family.!

Ron Dean
Obituary for Walter R. Peterman
Walter R. Peterman, 83, passed away on March 6, 2013 in his home surrounded by his family. He is survived by his wife of 64 years, Mrs. Alice J. Peterman; his daughter, Debra Sue Peterman Leach (George); his sons, Thomas Lee Peterman, Keith Alan Peterman (Linda), and Scott Glenn Peterman; 8 grandchildren, and 18 great-grandchildren. He is also survived by 2 sisters, and 1 brother.
Walter was a member of the Masonís Lodge # 310, Piedmont Masonís in Manassas, 4-H Programs, Square Dance Club, Amateur Radio, and Covenant Presbyterian Church Choir.
The family will receive visitors from 2 to 4pm and 6 to 8pm on Tuesday, March 12, 2013 at Mountcastle Turch Funeral Home, 4143 Dale Blvd. Dale City, VA 22193. A Life Celebration service will be held at 10am on Wednesday, March 13, 2013 at First United Presbyterian Church, 14391 Minnieville Rd. Woodbridge, VA 22193, followed by interment at Quantico National Cemetery at 1pm.
In lieu of flowers, family request donations are made to Evercare Hospice, 12018 Sunrise Valley Drive Suite 400, Reston, VA 20191.
---
Square Dance News will be Welcomed. Please email suggestions to the Web Manager at NCASDLA Web Manager
---

This page last updated Mar 6, 2013