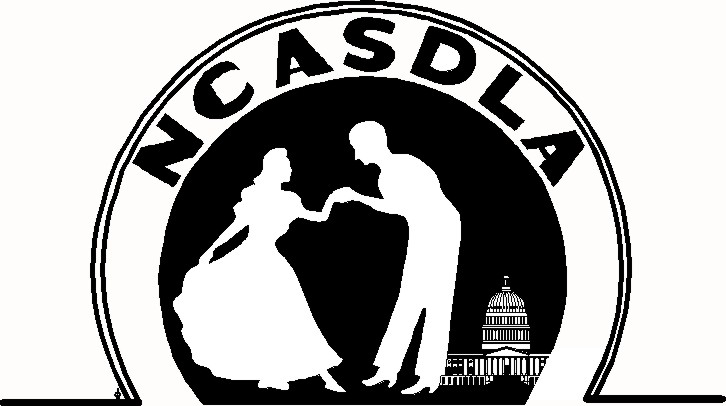 National Capital Area Square Dance Leaders Association
Dance Leadership since 1951
---
–HOME | EDUCATION | EVENTS | LINKS | PRESIDENT'S MESSAGE | MEMBERS | MEETINGS | MISSION | MORE ABOUT US | NEWS | BOOSTER CLUB |
---
---
New calls and definitions, are frequently added to the various lists. Whether you are a dancer or caller, you owe it to yourself and the square dance world to keep abreast of changes and to dance regularly to become proficient callers and dancers.
Recent Notes and articles from NCASDLA Members
From a presentation by Pete Kasper at the NCASDLA Education session Nov 9, 2014, a discussion onTips for Calling a Square Dance Party Dance.

A presentation given at the WASCA meeting Nov 17, 2014. by Eva Murray and Betty Mastrobattista, describes how the Village Swingers grew from 1 1/2 squares to 4 squares. It outlines a variety of advertising and other endeavors, evaluating how well each did or did not work. This valuable resource can be found here.

Further insight by Eva Murray on how to build up your clubs, here is an article on obtaining and building your club's web page, and the factors it needs to attract your dancers.
Callerlab Resources
---
Oral History of Square Dancing
Bob Brundage has made available to everyone the fruits of an oral history project on major figures of square and round dancing. He says:
"My intention when I started in 1996 was to record personal and career highlights with all the living Sets In Order Hall of Fame, Milestone and Silver Halo Award recipients and talk to as many others who had made a major contribution to our activity as possible along the way. Fortunately many of these taped interviews are available to read and/or listen to on the Square Dance Foundation of New England web site - www.sdfne.org . It is my current project to bring these stories to as many of today's hard working callers, cuers, leaders and dancers as possible while preserving them for future generations for research."
To access, go to the SDNE site and click on the Documents tab, then "Brundage Audio Interviews"
---
From the Mike and Monitor Archives
Late member Bill Addison published, years ago, in what was then NCASDLA's monthly newsletter, Mike and Monitor, an article on sounding your hall. It is just as relevant today as when it was first written.
Click here for "Sound and Sound Systems by Bill Addison (pdf)
---
---
About Digital Music
Click here for MUSIC FROM THE COMPUTER by Steve Lucius (pdf)
---
---
Note: reading pdf files requires Adobe Reader. If your computer does not already have Adobe Reader installed, a free download is available

here:
---


This page last updated Nov 26, 2014