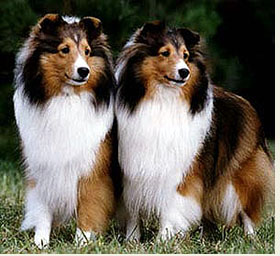 (From left) These litter sisters, Foxglove Ashburton Ingenue ("Janey," major ptd.) and Ch. Foxglove Ashburton Elegy ("Ellie"), are two of our favorite girls. They were two of a litter of three born December 13, 1992.
Ellie, who stands a mighty 13 and a half inches tall, finished in 1996 and recently had a litter by CH Shield Crest Hurricane. To see pedigree and puppy photos, click here.
Janey (14-1/2") is the dam of "Charo" (Foxglove Ashburton Macarena, pts.), "Kip" (Foxglove Ashburton Tropicana) and a lovely one-year-old litter of four by CH Lakehill King Of The Road (Blake-Janey Puppies). She will return to the show ring looking for that last major this summer, once she coats up after a litter by CH O'Davak Justice Prevails. Click here for litter pedigree (and photos, when available).
Janey and Ellie" are co-owned with Deb Jones (Ashburton) and Susanne Allen (Avalon).