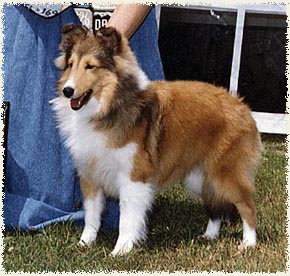 Jackie, born 29 January 2001, started off her show career with a bang, going reserve under breeder-judge Tom Coen at her very first show (pictured at left) -- at all of six months and two days of age.
Unfortunately, Jackie's next official act, a few weeks later, was to break her right front leg while rough-housing in the yard (see photo of patriotic splint below). She recovered just in time for her yearling shed -- so much for being a puppy flyer! Look for her to be back in the ring in late spring/early summer 2002.
Jackie was co-bred by Colleen Gentilcore (Suntera), Deb Jones (Ashburton), and Kim Schive and Carolyn Ing (Foxglove) and is co-owned by her breeders.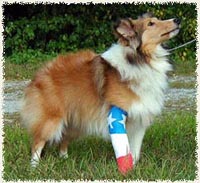 She is from the repeat of a breeding that produced two major-pointed puppies and a third who should finish when mature. Jackie is a litter sister to Ashburton Suntera Kodak Moment (Kody). Pedigree below.