Ashburton Suntera Kodak Moment ("Kody")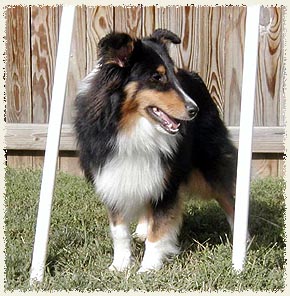 Kody, born 29 January 2001, is a beautiful tri-color male growing up with Deb Jones at Ashburton. He's pictured at eight months of age checking out the weave poles in Deb's backyard and, no doubt, dreaming of someday putting an agility title at the end of his name (not to mention a "CH" in front). Look for him at the shows in 2002.
Kody was co-bred by Colleen Gentilcore (Suntera), Deb Jones (Ashburton), and Kim Schive and Carolyn Ing (Foxglove) and is co-owned by his breeders. He is from the repeat of a breeding that produced two major-pointed puppies and a third who should finish when mature. He is a litter brother to Foxglove Suntera Face Value (Jackie). Pedigree below.
Tara Hill It Hasta Be Shasta (litter brother to CH Tara Hill All Is Vanity)

CH Tara Hill Aylmere Wild Card

Dan Dee Orange Fragrance

CH Benayr Sentimental Journey

Aylmere Amanda Leigh

Aylmere Karma ("Sportin' Chance")

Am/Can./Jap. CH Alfenloch Whirlwind, ROM

Sea Oak Diamonds Are Forever (dam of 3 CHs)

Foxglove-DeVine Trendsetter, NA, HSA-s

Edgelea Nor'Easter O'Rosmoor ("Rosmoor Robert")

DeVine Sing A Joyfull Song, CD, NA, HS

Kelhar's Joy To The World, CDX
Ashburton Suntera Kodak Moment (Kody)
Am./Can. CH Alfenloch Ryan O'Neil, ROM

Am/Can./Jap. CH Alfenloch Whirlwind, ROM

Am./Can. CH Alfenloch Tatum O'Neil

Can. CH Bonnyville Fairfax Nighthawk ("Eli")

Am./Can. CH Alfenloch Ryan O'Neil, ROM

Bonnyville Forever A Diamond

Bonnyville's Sweet N' Sassy

CH Foxglove Ashburton Photo Op

CH Fourwinds Light The Way, ROM

CH Trelane Bold Image

Trelane Woodwyn Imagine That

BISS CH Malpsh Penny Serenade, ROM (dam of 6 CHs)

CH Cameo Farms Justinuff Spirit

CH Malpsh The Magic Is Back

CH Westwood's Malpsh Cherry Flan (dam of 3 CHs)