Foxglove News: 2000

(Click on any photo to enlarge)
Last Year at Foxglove...
The year 2000 brought us four home-bred American champions, other dogs who earned major and minor points toward their championships, two class wins at the ASSA National, and the opportunity to vicariously enjoy the successes of our friends and co-owners. Some of the year's highlights are detailed below.
New Foxglove champions for the year 2000
Foxglove winners at the ASSA National
Enjoying the successes of co-owners
"Covergirl" Janey (CH Foxglove Ashburton Ingenue)
A visit to the set of the HBO series, The Sopranos
Foxglove's 2000 Champions:
CH Foxglove Cinnabar Carrera (CH Lakehill King O' The Road x CH Foxglove Ashburton Ingenue). Cara, who finished in April, was owner-handled to all of her points, including three majors, by co-owner Nola Chock and Carolyn.
CH Foxglove Ashburton Ingenue (Am./Can./Jap. CH Alfenloch Whirlwind, ROM x BISS CH Malpsh Penny Serenade). Janey finished in July, winning her last major under Collie breeder-judge Bob Futh, owner-handled by Kim in the bred-by class. Janey was handled to her first major and several minor points by Steve Barger.
CH Foxglove Ashburton Bottoms Up (Can. CH Bonnyville Fairfax Nighthawk, ROMC x BISS CH Malpsh Penny Serenade). Jigger finished in September, winning his last major from the bred-by class under Sheltie breeder-judge Melanie Williams at the Western Massachusetts SSC specialty show. Jigger was owner-handled to this win by Kim; he was handled to the rest of his points by Phil Chandler while spending some time in the south with co-owner Susanne Allen (Avalon).
CH Ashburton Foxglove All Of Me (CH Consort Capital Edition x BISS CH Malpsh Penny Serenade). Lil finished in November, winning her last major under Sheltie breeder-judge Katie Gammill at the SSC of Tidewater specialty show. Lil was handled to her majors by Carol Arteta.
---
2000 ASSA National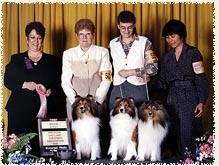 At the ASSA National in April, we were thrilled with Penny's (BISS CH Malpsh Penny Serenade) win in the brood bitch class. Helping her achieve this honor were two of the Penny kids who finished this year -- Lil and Jigger. The photo shows, from left, Judge Charlotte Tull, Penny (with Rusty Cromer handling), Lil (with Kim), and Jigger (with Carolyn). Click on photo to enlarge.
We were also quite pleased with Hank's (Foxglove Avalon O. Henry) class win in the huge and competitive 12-18-month sable dog class. The judge's critique mentions Hank's outstanding movement and "presence." She also comments that he needs to mature, which is what he's busy doing right now. He may make a few ring appearances in 2001, but serious campaigning will wait until he's really ready.
---
Co-owner successes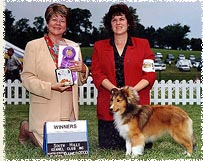 Co-owner Colleen Gentilcore (Suntera) had an exciting year, handling her Penny daughter Phoebe (Foxglove Ashburton Photo Op) to her first point -- which was also Colleen's first point. Then Colleen got serious, putting majors on two puppies from Phoebe's first litter, Spencer (Suntera Foxglove Photo Finish), pictured here (click on photo to enlarge) and Charm (Suntera Foxglove Charmed Life). Both of these wins were from the 6-9 class. Since these also were the first major-pointed kids for their young sire, CH Foxglove Chances Are (Chandler), this was a double thrill for us.
As mentioned above, Nola Chock (Cinnabar) finished CH Foxglove Cinnabar Carrera (Cara) in 2000. She's now looking forward to showing Cara's young son, Chase (Cinnabar Foxglove In Hi Gear). Click here to go to Chase's page.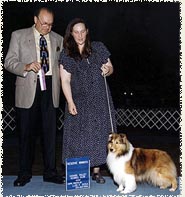 Foxglove Ashburton Macarena also picked up a major (and a major reserve -- pictured at left; click on photo to enlarge) with co-breeder/co-owner Susanne Allen (Avalon) at the end of the lead. By the end of the year, Charo had managed to pick up the rest of her minor points, shown by her new owner, Don Combee (Chisterling).
Penny son Ashburton Foxglove Nickelodeon, now co-owned byJan Ibaraki (Starmist) and Nola Chock (Cinnabar), also had some nice wins. He picked up his first major and the rest of his minor points in 2000 and hopes to put that CH in front of his name (and a ROM after his dam's name) in 2001.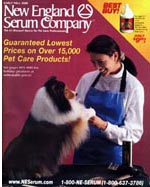 ---
A brush with fame
In September, Janey (CH Foxglove Ashburton Ingenue) enjoyed her 15 minutes of fame when she graced the cover of New England Serum's "early fall" catalog (click image to enlarge). She tried very hard not to let it go to her head but admits that modesty was difficult under the circumstances.
---
And a brush with "the Mob"
Kim freely admits that one of the high points of her year had very little to do with dogs. In August, she was lucky enough to spend a day on the set of the hit HBO series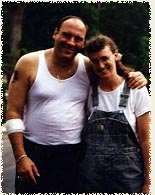 "The Sopranos." A few years ago, we sold a puppy to, and subsequently became good friends with, some people who know the people who own "Tony Soprano's house" in North Caldwell, New Jersey. Although interior shots are now done at a sound stage in Queens, New York, the actual house is still used for exterior shots. Thanks to our uncanny ability to choose puppy buyers wisely, Kim was able to spend a day at the house watching the filming of two scenes and meeting some of the cast members. Kim is pictured at left with James Gandolfini, who plays Tony Soprano (click on photo to enlarge). Kim is the one with the really goofy smile.