---
---
Welcome to Remembering the Rutland, a web site dedicated to preserving the memory of the late, lamented Rutland Railroad. Please take a few moments to browse around and introduce yourself to this fascinating railroad. You will find equipment rosters, maps, capsule histories, photographs and more. You will learn of ongoing efforts to preserve Rutland facilities and equipment. Then you will see how model railroaders keep the memory of the Rutland alive with their modeling efforts.
And finally, although Remembering the Rutland is not officially associated with it, I would encourage you to become a member of the Rutland Railroad Historical Society.
Welcome Aboard!
---
---
Remembering the Rutland
Sections:
---
Featured Image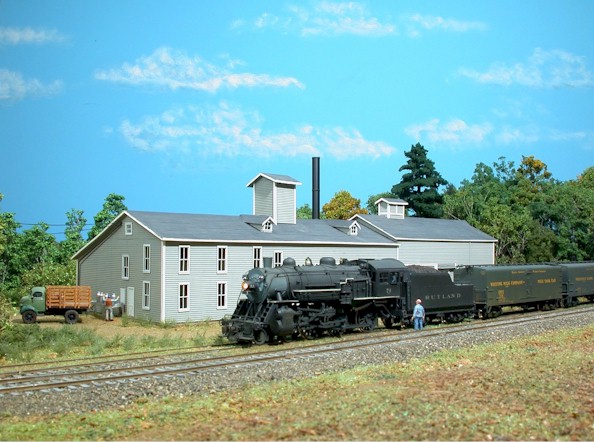 Isn't it Grand?

Pictured above is yet another diorama built by Lou Sassi for his upcoming Kalmbach book. In this scene, Rutland Ten Wheeler No. 74 is getting ready to switch the Grand Isle Creamery. The locomotive and the Pfaudler milk cars are brass models imported by Overland Models in the 1980's. They were painted by Lou.

Lou based his drawings for the creamery on photographs of the model of the same building on the layout at RPI. He had Rich Cobb scratch build it. Martin Collard scratch built the stake body truck.

I'd like to take this opportunity to wish Lou a speedy recovery from his recent surgery. Judging by the evidence above, Lou is coming around just fine! You can view previous Featured Images of Lou's modules by clicking this link.

Image by Lou Sassi
---
So What Else is New?
---
More on the sale of Railworks to Crown Custom.
G-34's and F-11's still on track!
Click here for details. (05/09/04)
GET READY! Kadee has Rutland PS-2's on the way!!! If you are a member of the Rutland Railroad Historical Society, Caboose Corner has a deal for you! (04/17/04)
Tidbits in O, HO, and N scales. (03/20/04)
An open letter from the editor to Broadway Limited Imports regarding their upcoming USRA Light Mikados. (03/19/04)
Bill Keay has a tip for modeling Rutland van windows for a specific prototype. (03/07/04)
---
A REMINDER:

MORE BOOKS ADDED!!! (02/21/04)

--Rutland Railroad Equipment Trust

This new section features a list of books, pins, model railroad kits and supplies. All proceeds from RRET sales go to the preservation of Rutland equipment and facilities. Included in this list is the Morning Sun book Rutland in Color by RRHS member Phil Jordan (left). What better way to help preserve the memory of the Rutland?
---
Please let me introduce you to Steve's Depot, a hobby shop located in the town center of Burlington, Massachusetts. Steve's Depot is a friendly, knowledgable source for DCC components and factory-trained installation.
---
Latest questions:
01 September 2003
Q136 - Colchester Point
Q137 - MTH O Scale Mikado
Latest response:
01 September 2003
Q105 - Steam Switchers Assignments
Q134 - Station Platform Materials
---
-RRHS Newsliner -- Back Issues Available
Volume 3, #1 right through to the current issue are available from RRHS member Will Davis. Will will mail you a complete index of available issues upon request (Cheers, Will!). Will also reports that some editions of the Newsliner are now in very short supply, so act now if you have been procrastinating! Click here for details. (08/10/03)
---
--Green Book of Scale Brass Milk Cars
Jim Kindraka of River Raisin Models corrects our S-scale entries in the River Raisin table and informs us of some web links of interest to milk car modelers and historians. (05/18/03)
---
Ben Perry recounts his trip from his home in Providence to attend this year's convention. (05/07/03)
---
Images of Rutland PS-1 No. 445 - by Scott Whitney (12/08/02)
---
Rutland 10000-series Hopper in HO scale (01/01/03) -- Updated with new image of the finished model! -- Bill Badger reworks a Bowser PRR GLa with spectacular results.
---
--Remembering the Milk Trains

Modeling the Milk Trains? A complete listing of brass milk cars in HO, N, S and O scales can be found in the Green Book of Brass Milk Cars. The Railworks B&M wood cars are the latest additions.

Right: Milk can tag for milk waybilled to Whiting's Milk Company in Boston from Houghs Crossing, Vermont, which was on the Addison Branch.

Highball Graphics expands their line of milk car decals. (08/04/02) -- It may be time to resurrect a few of those milk car projects in your closet. The decals you've been waiting for are now available.

Are you wondering which Brookside signs are appropriate to apply to your Railworks (or Overland Models) B&M 1700-series milk cars? So are we! We've started a table of known applications and need your input. (09/01/02)

Join the new Milk Train List on Yahoo!
---
My home-away-from-home-away-from-home:
the Boot House pub, Upper Glanmire, County Cork, Ireland.
Watch your step when you exit!
Email to: Jim Dufour, editor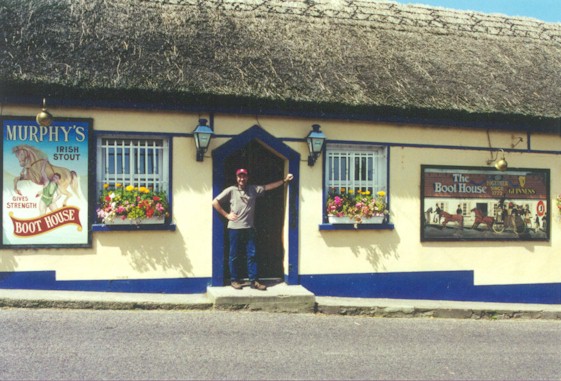 Photo by Mike Pearce - July 2000
---
More on the editor, Jim Dufour, if you should care...
---