Bicycling à la Française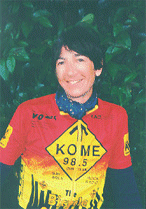 I am an American bicyclist whose focus, since 1979, has been racing. I have a United States Cycling Federation (USCF) racing license and have been a USCF official since 1984 (Category 2 official since 1985). When I moved to France, I joined a French cyclotouring club in the town where I was living. Except for some individual training and some rides at the velodrome, all my riding was with the club. The club rides every Sunday morning, meets two evenings per month, and has an occasional social event. I am the only anglophone, so all conversations are in French.
There are many sources of information for anglophones who want to take a cycling vacation in France, so I do not repeat that information here, though I include some links (see More Cycling Information). My pages provide information about French cycling organizations, the types of rides available through these organizations, and my cycling experiences as a member of a French club.
Cycling Organizations in France
Types of Cycling Events in France
More Cycling Information
Bicycles on Trains in France
Suggestions for Bicycling in France
My Cycling Experiences in France
La Marmotte
First Rides with Levallois Sporting Club
Riding at Longchamp
VCL Tour du Vexin
La Randonnée de Gresivaudan
Le Reblochon,
The Weekend at Auxi-le-Chateau: English Version, Version Française
Levallois Criterium
Velodrome La Cipale
Bicycle Touring in France
The Var
The Hautes Alpes and the Gorges du Verdon (mostly photos)
Aux Gorges du Tarn, Version Française
Bicycling in the Beaujolais
Travels with a French Cycletourist
Les Pass Californiens Version Française or English Translation or photos
Arménie, Version Française, 1ère partie ou Arménie, Version Française, 2ème partie
Armenia, English Translation, Part 1 or Armenia, English Translation, Part 2
Chile con Charly (photos)
Pentecôte au Luxembourg, Version Française or Pentecost in Luxembourg, English Translation
La Grande-Canarie à vélo, Version Française or Bicycling Gran Canaria, English Translation
---
Barbara Leonard leonard_barbara@yahoo.com